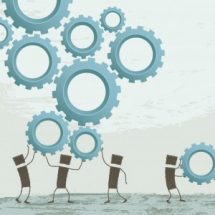 Adaptive Insights Implementation Services
What is Adaptive Planning?
Do you use Excel as your financial planning tool of choice? Do you struggle to maintain the integrity of your Excel planning models? Are you struggling maintain your worksheet linkages and your ability to consolidate the entire financial plan? Do you create multiple workbooks with different passwords that create a very challenging during consolidation process by forcing you to supply the password with each worksheet? How long does it take to answer a question like "how many employees are we forecasting to hire next year?" Does it take more than 1 minute? What happens once the ink is dry on your new financial plan and you have your first month of actual results? Do you have to create a bunch of new reports and file linkages so that you can integrate the financial plan with actual results? If this sounds like the headaches that you experience, you are not alone. There is a better way to create financial plans which is using Adaptive Planning.
Adaptive Planning is part of the Adaptive Insights suite of business performance management tools. It is cloud based, and will make you and your financial planning team more efficient and effective. Here are a number of ways in which Adaptive Planning will improve your budgeting and forecasting processes:
Eliminates the need for Excel
First and foremost, you can eliminate the use of Excel and all the obstacles that come along with using spreadsheets for financial planning. Many of the obstacles pertain to the complexity needed to maintain large spreadsheet models. Along with complexity comes the high likelihood of spreadsheet errors. The opportunity for errors increases as you involve more managers and more financial analysts. Also, spreadsheets applications do not lend themselves well to manipulating information with many dimensions similar to a database application. If your organization values financial planning and reporting, you need to move beyond Excel-based planning tools and processes.
Budgeting & Forecasting
Here are some of the budgeting and forecasting related features you will get with Adaptive Planning:
Robust Set of Planning Elements

– including personnel planning, cap ex, sales, assets, depreciation, debt, cash flow, and the like;

Integrated Financial Statements

– Easily compute cash flow with integrated P&L and balance sheets;

Custom Dimensions

– Product Hierarchies, Sales Hierarchies, Customer Hierarchies, Organizational Structures, etc.;

Global Assumptions

– Easily change global assumptions across all your planning models;

Workflow

– Monitor who has completed their submission and been approved by their next level manager;

Audit Trail

– Track who has changed which parts of the plan;

Multiple Currencies

– Easily manage multiple currencies in the same model; and

Multiple Line Item Detail

– Document multiple assumptions for a single cost element in a department.
Reporting & Analysis
Adaptive Planning reporting & analysis have the following features:
Drag and Drop Report Builder

– Easily create new reports on the fly;

Drill Down

– Report reviewers are able to drill down to supporting detail;

Transaction Reporting & Analysis

– Pull in transaction-level detail from your ERP system and enable report reviewers to drill down on individual entries. Adaptive Planning can be integrated with cloud-based accounting systems, such as Intacct and others;

Report Books

– Create predefined report books and generate updated reports monthly; and

Output Formats

– Depending upon your need, you can export reports in Excel, PDFs and HTML formats.
Dashboards and Scorecards
Create basic dashboards and scorecards that are based on the data contained within Adaptive Planning. This includes the following features:
Drill Down

– Similar to financial reports you can also drill down on dashboard graph objects;

Ability to Restrict Access

– You are able to assign dashboards and scorecards as being private or public; and

Conditional Formatting

– Bring attention to the most important insights.
Model Building & Administration
Model building and administration is enhanced with the following features:
User Security

– Give users access to only the organizational areas as required.

Version Management

– All your plan versions can reside in a single location. Do you need to compare spending for a specific department from one year to the next, or one plan iteration to the next? You can easily make those comparisons;

Centralized Assumptions & Formulas

– Again, you can control global assumptions from a single location; and

Configurable and Customizable Data Entry Sheets

– You can create custom input sheets by reviewing manager that are limited to their specific organizational responsibility.
Adaptive Planning possesses the comprehensive planning capabilities you need to take your financial planning and reporting into the 21st century. Contact us today to learn how to eliminate your dependence on Excel planning spreadsheets and really leverage the value of financial planning within your organization.