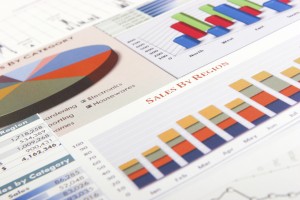 Effective Financial Analysis and Reporting
Converting Raw Data Into Actionable Intelligence
Effective financial analysis and reporting is an all midsize businesses seeking to gain actionable intelligence from their transactional data. Whether a business is using QuickBooks or some other more sophisticated accounting system, extracting timely information can be a challenge. Typically, the "canned" reports provided with most accounting systems are inadequate when attempting to gain insightful conclusions on current business performance.
Financial Reporting Basics
Regardless of accounting system, your accounting information can be broken down into two components: 1) list data; and 2) transactional data. List data includes the chart of accounts, customer list, vendor list, projects, parts, etc. Transactional data are the actual accounting entries that are processed when posting invoices, writing checks, scrapping inventory, paying a vendor, and the like. Depending on the transaction, one or more list items will be referenced. For example, an invoice will reference an account, a customer, possibly a project, possibly a part number, and other information.
A well thought out accounting configuration
adds significant benefit to understanding how your business is performing. The goal of financial analysis and reporting is to leverage all this information to produce actionable intelligence for business owners and other stakeholders.
Financial Reporting Process
Financial reporting starts with an efficient accounting close process. Does your business have a close calendar that includes dates when your financial records will be closed for the month as well as what close processes need to be performed and by whom?
There are a number of positive effects
when you diligently close your books on a monthly basis and everyone understands their roles in the process.
The next step is having an established set of financial reports that are consistently reviewed. At a minimum this would include a trended profit and loss statement as well as a balance sheet. If your business has a plan, as nearly all of our clients have, then reports comparing current-month and year-to-date performance vs. plan are a necessity. There are other reports required at quarter ends. You should review both your accounts payable and accounts receivable aging reports for potential adjustments and errors on a quarterly basis. Additionally, analyzing your other balance sheet accounts for accuracy, on a quarterly basis, is an imperative.
The reward for all this work is the ability to perform financial analysis and convert your findings into actionable intelligence. By actionable intelligence, we mean you are able to identify trends, potential opportunities and take timely action to help you grow your business. Additionally, distributing financial performance data to senior managers and other stakeholders keeps everyone's focus on company goals and objectives.
Contact us today if you are ready to accelerate the growth of your business with better financial analysis and reporting!