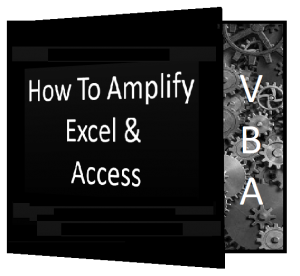 VBA for Excel and Access Business Applications
Custom Database and Workbook Apps for Your Business
Both Excel and Access are tried and true business applications that can be taken to higher performance levels by utilizing VBA applications to better utilize the capabilities that exist within those applications. Do you need to import data from a CSV file into an Excel workbook that is cumbersome, requiring hours of manual slicing and dicing of source data to be formatted correctly? Do you have a number of reports that need to be generated and emailed out to your report consumers that require manually building multiple workbooks, again manually slicing and dicing data prior to distributing those reports? Creating an Excel VBA application can alleviate many time-sapping manual data transforming efforts that can improve your reporting while freeing manpower to work on more value added activities.
Do you have data in an SQL Server that you would like to carve out into a separate data warehouse for deeper analytical review in either Access or Excel? Using VBA coding, you can create connections to an SQL Server resource and import master and transaction data into a data warehouse for further analysis using Access, Excel, Power BI or other applications. Need to produce individual reports or Excel workbooks using your SQL Server source data that can be used by customers, managers and/or employees? Profitwyse can help you.
Profitwyse can help you create or modify your VBA coding project. We understand debits and credits as well as bits and bytes making us uniquely qualified to take on your business application. Do you have an inventory management problem, financial report challenge, cost accounting analysis barrier, statistical analysis conundrum that needs to be solved? Profitwyse can help. Contact us today to learn how you can take your business to the next level.