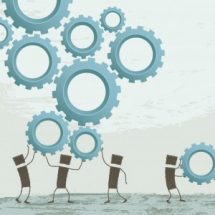 Business Tips For The Purposeful Entrepreneur
Low And No Cost Business Tools
Being in the CFO services business, we are always looking for useful business apps and tools to increase our efficiency, without busting our budget. In this post, we provide recommendations on four apps and tools that we've found particularly useful as well as cost effective.
Power BI for Interactive Data Analysis
Power BI is a relatively new addition to Microsoft's business intelligence stack. If you have a need to consolidate data from heterogeneous sources (databases, Excel files, flat files, etc.) and produce dashboards, interactive displays and have the ability to share this information across your organization, then Power BI is worth a look.
Power BI comes in a couple of varieties–one a Desktop version and the other a cloud-based version. They essentially work the same, but you can do a bit more with the cloud-based version. For example, it is easier to establish automatic updating with the cloud-based version than the desktop version, when sharing the data. Also, it is going to be easier to share your visualization across your organization, if you are using the cloud-based version. A good place to start is at Microsoft's introduction page on the basic differences between the different versions of Power BI.
Additionally, Microsoft is building content packs that allow you to pull data from existing data sources. For example, there is a content pack for Google Analytics. So you can make a connection to your Google Analytics account and get automatic updates on your web traffic using Power BI. Given that Google Analytics has fairly powerful data analysis tools on its own, this may not sound impressive. But there is also a content pack for Bing Analytics. So you could use PowerBI to integrate your Google Analytics and Bing Analytics into a single data warehouse.
Visit Microsoft to learn more about content packs and how to set them up. You will need to create a PowerBI account to retrieve the full list of available content packs.
Trello
Have you ever searched for a convenient task management tool? Did Outlook's Tasks leave you flat? Perhaps you tried something different like Google Calendar to track your tasks. How about Microsoft's One Note? There are a lot of tools out there to manage tasks, but I personally think Trello has done a better job. The app is intuitive, simple to use, inexpensive, yet it is powerful.
Very basically, Trello is niffy way to structure tasks. At the top level you have boards. Think of a board as project or initiative or a high level objective, such as "start a business." Within a board you have lists. Think of lists as containers, where you can have multiple lists within a board (or project). For example, if you had a board for project ABC, you could have a list for To Tasks, In Process Tasks and Completed Tasks.
The next level is a Card. Cards are really the meat of this application. Cards can have a title, like "Write Blog Article on Working Capital." Then within that card you can create check lists, set due dates, attach supporting documents, assign a color coding and other functions. If you want to purchase the Trello service, you can also collaborate with others on Cards and assign Cards to others on your team. This makes it a nice time management and delegation tool.
Here's the first in a series of five videos, from Greendays Group Inc, that I think are a good tutorial. I suggest going through all of Greendays' videos given they are short and provide a good overview of how someone is actually using Trello (and it isn't an hour long like many of the other videos I noted on YouTube).
Go to the Trello site to get more information and/or sign up for the free basic service. Very useful business app!
DocuSign
This is another great app on a number of different dimensions. First off, it is a handy way to manage the flow of contracts. In our business, we have various client facing documents requiring approval. With DocuSign, you can have a template where you specify where you want your client's electronic signature or acknowledgement on a form, as well as the address and other specifics. You initiate the approval cycle in DocuSign and then the apps does the rest–sending the document to your client, tracking when the document is approved, returning signed copies to you and your client, as well as retaining a permanent version of the fully executed document.
For $10/month (paid annually up front, of course) you get 5 documents, which is a reasonable number for a small business. Here's a video from GearsOfBiz on YouTube again that describes some of the basics.
inMotion Hosting & BoldGrid

Last but not least we wanted to give a shout out to our web hosting firm–inMotion Hosting–and their proprietary website builder–BoldGrid. The website your reviewing right now was created using BoldGrid, which is a WordPress-based site. For the DIY types, inMotion Hosting service, tools and support can't be beat. They also have custom website design services, if you need something more robust.
Here's a YouTube video on how to use BoldGrid with WordPress to create your own website.
We have found these four business apps very helpful and hope you do the same. Contact us about your favorite productivity apps and we'll get the word out.